The Best Investment I Have Ever Made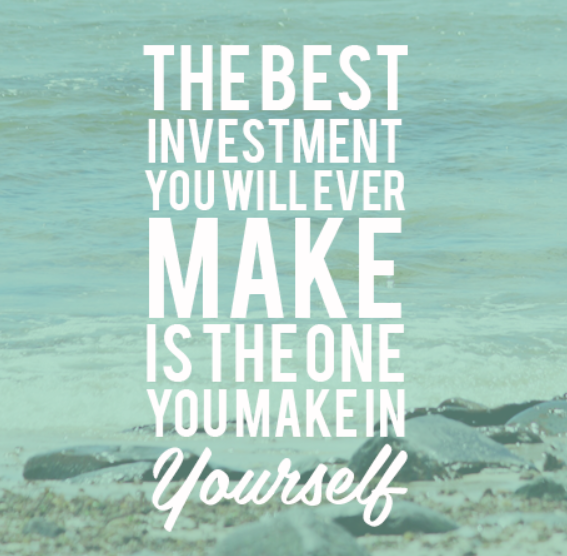 In the early part of 2012 I decided to start investing in myself, so sick of the daily treadmill of get up, go to work, eat watch a little tv and then back to bed again. I knew there had to be more to life than this. I am blessed with and grateful for my awesome family but I felt there was something missing and in my 43 years at that time I never found it.
That is until I happened upon the documentary The Secret on Netflix one Sunday afternoon and I learned about the law of attraction. This is what pushed me to start investing in myself and create a better life for myself and family based on thinking in a way that is productive.
Think about all the time you waste worrying about things, you can turn this around by investing in yourself and start your path to right thinking. You need to think thoughts that will help you in life and not keep you stuck and that only happens when you invest in yourself each day.
I could not believe the impact my investment in myself made on my family, my oldest daughter Shannen broke out of her shell and it was from seeing and applying what I was doing, she loves to sing but would never let anyone hear her and in her last year at middle school she tried out for chorus and chamber choir and did some awesome stuff. Here is a video of her singing at her school talent show.
My youngest daughter Lauren applies what she is learning by helping students in her class think more positive when they run into struggles with the work. The teacher even takes advice from her and she is only 9 years old. This is Lauren singing at function at the High School.
When you invest in yourself each day it not only helps you, it helps everyone you are in contact with and makes the world a better place. I can teach you all about financial investment strategies all day long but for me the best investment is always in your personal development.
If you are ready to make the investment in yourself I would like to start you out by offering The Science of Getting Rich PDF and accompanying videos which I read the book aloud. You may not want to listen to my marble mouthed Boston accent but if you do here it is.
Thanks for stopping by and checking out my post on the best Investment I have ever made.